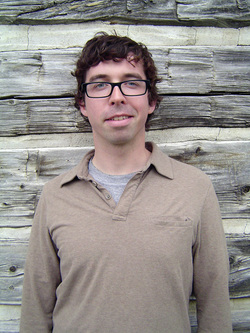 _ Seattle Composer Nat Evans writes concert music for various mixed chamber ensembles, distinctive electro-acoustic music, and site-specific music events that fuse nature, community and subjectivity of experience. His music is regularly presented across the United States and has also been performed in Europe, South America, Australia and China. Evans has received numerous commissions including the Seattle Percussion Collective, the Harrison Center for the Arts, ODEONQUARTET, Seattle Pacific University Men's Choir and Percussion Ensemble, Beta Test Ensemble, The Box Is Empty, and the Indianapolis Museum of Art, among others. His music has been featured on a number of radio stations in the United States, as well as BBC3, and in the 2011 Music Issue of The Believer. He studied music at Butler University with Michael Schelle and Frank Felice.

Evans has created installations at the Harrison Center for the Arts, and helped organize (and performed in) the Sonic Waves Experimental Music Festival in Melbourne, Australia. His music has also been featured in the Long Beach SoundWalk sound art festival, Brooklyn's Nuit Blanche event Bring To Light, as well as the Make Music Winter festival as part of Tom Peyton's Bell by Bell event. A frequent collaborator, Evans has worked with fashion designers in Berlin, artists, film makers, and composers and musicians such as Ross Simonini. He and Simonini have written scores for film as well as modern dance, including choreographer Catherine Cabeen.

In September 2010 a new site-specific electro-acoustic work that combines nature, community and music - Sunrise, September 18th, 2010- was presented in Seattle as well as in Louisville. Participants downloaded the score to a portable listening device, then joined groups in their respective geographic locales to observe sunrise together as they listened to the music. This was the first in a series of site and time specific works presented in this manner. In 2011 Evans presented his Sunset + Music tour across the United States using the same method as sunrise event, with this one taking place at Sunset. The events were covered extensively in the press, and Evans was invited to give lectures on the topic, as well as present it at New York's Bring To Light Festival. In 2012 The Hartt School commissioned a third time-specific piece. This new work, Blue Hour, debuted at the Private Works music festival in Hartford in April, and was presented around the country throughout 2012.

Throughout 2012 Evans created a series of new site-specific works, including a sound installation at the NEPO House art festival 5K Don't Run, and his ancestry-related piece Hungry Ghosts, which was commissioned by the Indianapolis Museum of Art. Hungry Ghosts debuted in September 2012 at the IMA, and also won the Color Field Ensemble call for site-specific works and was performed in Madison, Wisconsin at the Color Field Ensemble annual music festival. Seattle-based ensemble The Box Is Empty commissioned three new works from Evans in 2012. Hear No Noise was performed in June of 2012, and the other two works will be debuted in 2013.

Percussionist Bonnie Whiting Smith began performing a new large-scale work for percussionist with electronics in January 2013 in Los Angeles and San Diego, with additional performances forthcoming. In 2013 Evans will continue collaborating with Ross Simonini on new scores for dance and sound installation, as well as with Chris Kallmyer on site-specific sound events and interactions, and new concert works for ensembles such as Duo Orfeo.








---
Photo by Erin Elyse Burns